PRICE ADJUSTMENT NOTICE TO LOCAL PRO GOLF LESSON RATES
【新加坡籍教练高尔夫课程价格调整通知】
Thank you for your continuous trust and support in Star Golf Pte Ltd.
谢谢您对STAR GOLF高尔夫球学院持续的信赖与支持。
Star Golf Pte Ltd is implementing a general price increase on our golf lesson rates with effect from 1st JULY 2019. The hike is applicable only for Local/Singaporean coach/pro lesson fees.
STAR GOLF高尔夫球学院将从2019年7月1日起对课程费进行一般性的涨价。此调整只有音响到新加坡籍教练的课程价格。
New rates are as listed below.
新价格如所示: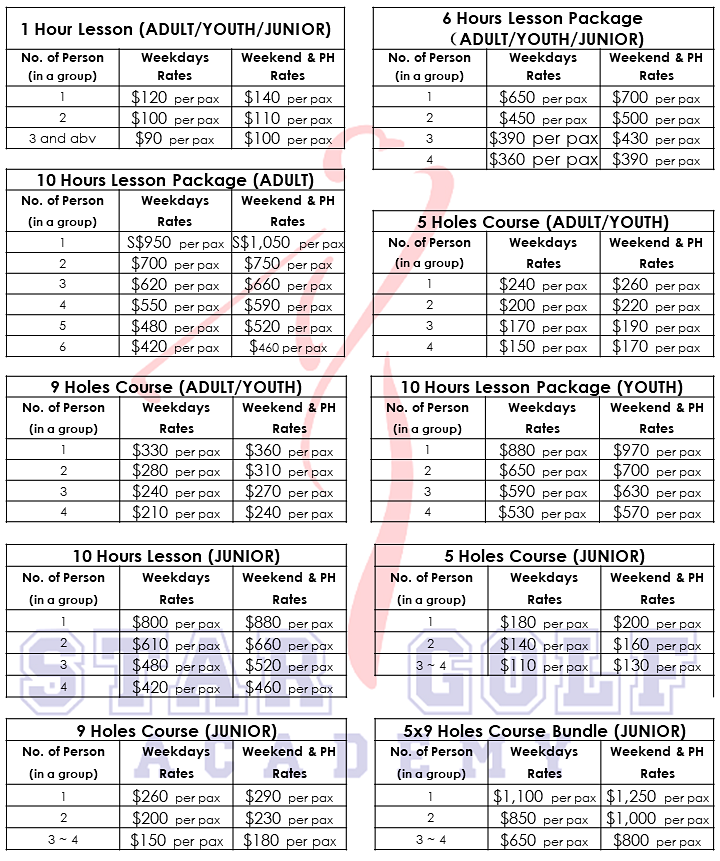 For further clarifications or information, you may email us at sales@stargolf.com.sg.
如需进一步的澄清或信息,您可以发送电子邮件至sales@stargolf.com.sg。
THE FINE PRINT
All golf lesson rates are based on per person rate and before 7% Goods and Service Tax.

'Weekdays' refers to Monday to Friday, 'Weekends and P.H.' refers to Saturday, Sunday and Public Holidays (inclusive of weekdays).

All lesson rates does not include golf/ range balls, buggy and green fees, short game facilities fees, equipment rental for on-course, golf insurance,  test fees and/ or any other administrative fees unless otherwise indicated.

Booking of golf lesson(s) are advisable to be made 7 days in advance.

Confirmation of golf lesson(s) booking will be confirmed upon receiving of full payment at the Academy's office.

Please email to sales@stargolf.com.sg with your preferred lesson start date, time and your particulars (and your group members' information)  to make the first lesson reservation.

All fees are non-refundable and non-transferable.
Cancellation(s) and/or amendment(s) to reservations/ bookings must be notified at least TWO (2) DAYS in advance.
Green and buggy fees cancellation/ rain-check policy is subject to terms and conditions of Marina Bay Golf Course.

Star Golf Academy reserves the right to amend the Terms and Conditions without prior notice.

Rates may be subject to change without prior notice.

Other Terms and Conditions apply.